Kenneth's Classic Wrestling Home Page
by Kenneth Phelps
---
THERE ARE MANY WRESTLERS THAT MADE WRESTLING WHAT IT IS TODAY.
There is one wrestler that comes to mind. This one is Cowboy Bill Watts. Former North American champion and tag team champ with several different partners. Bill watts wrestled all over the United States during his career. He has had several big feuds with with wrestlers such as: KILLER KARL KOX, DICK MURDOCK, THE SPOILER, JOHNNY VALENTINE AND WALDO VON ERIC.
Classic 70s Wrestling
Cowboy Bill Watts: Biography
The Picture below has Cowboy Bill Watts helping Colonel Buck Robley who is in a tight spot. King Kong Mosca has Robley in a full nelson. Standing in the background is Mosca's manager Rock Hunter. I think the Masked Assassin may have been Mosca's partner. This during the tri-State heyday.
The second wrestler is Bruno Sammartino. He is the former W.W.W.F. heavyweight champion. He has defended his title against all contenders that the federation put against him. Here is a list of wrestlers defeated at the hands of the former champion.
Baron von Raschke
Superstar Billy Graham
Ernie Ladd
Ivan Koloff
Stan Stasiak
Dusty Rhodes is a very tough wrestler. He is the former two time holder of the National Wrestling Alliance Championship,and he also held the Florida Heavyweight Title on numerous occassions. The dream as he is called to his fans. He traveled all over the U.S. Dusty Rhodes mostly liked to make his home in the Sunshine State of Florida. Dusty Rhodes had many feuds with Terry Funk,Dory Funk,Professor,Boris Malenko and Superstarilly Graham. He wrestled in arenas all over the country.
Jose Lothario is a very tough individual. He hails from Mexico City. Jose has wrestled all over the country. He has held the brass knuckles titles in the states of Florida and Texas. His toughest opponents were:
El Gran Marcus
Black Gordman
Superstar Billy Graham
Bull Ramos
Here is Jose watching an opponent.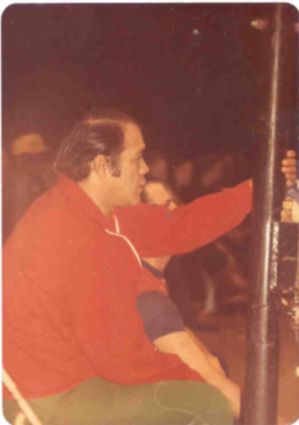 ---
---
The design, layout and creation of these pages was achieved with the assistance of
WebNovIce 2000